Tallettaminen käyttäen Paysafecardia
Paysafecard mahdollistaa sinun tekevän talletuksia EUcasino tilillesi million vain. Se on turvallinen, helppo käyttää ja anonyymi. Paysafecardit ovat saatavilla monissa eri paikoissa, bensa-asemilla, kioskeissa, marketeissa, posteissa, kirjakaupoissa, pankeissa ja monessa muussa paikassa.
It is quick, easy and safe. You don\'t need a credit card or a bank account. By choosing Paysafecard you\'ll be getting the safest, simplest solution going: that\'s because Paysafecard is a prepaid card that lets you pay on the internet. Paysafecards can be purchased at values of 10, 25, 50, and 100 EUR.
Jos maksujesi summa on enemmän kuin korttisi luotto, niin voit helposi maksaa jäljellä olevan velan seuraavalla paysafecardilla. Yksittäisellä maksulla voit yhdistää kymmenen paysafecardia joka mahdollistaa sinun käyttää jäljellä olevaa luottoa nykyisessa paysafecardissa.
Paysafecard is every bit as simple as cash. You don\'t need a bank account or a credit card. That\'s because Paysafecard is a prepaid voucher that you can buy from local shops and use to pay for online transactions on the internet.
It\'s as easy as 1-2-3!
To find out more about Paysafecard please visit //www.paysafecard.com/pos. The site has multiple languages to choose from.
Tehdäksesi talletuksen paysafecardilla sinun tulee valita paysafecard maksuvaihtoehdoista, lisätä summa Euroina ja lisätä bonuskoodi (jos sinulla on sellainen).
You will then be redirected to Paysafecard\'s website where you need to enter the individual PIN from your Paysafecard. This is very simple–see the screenshot below: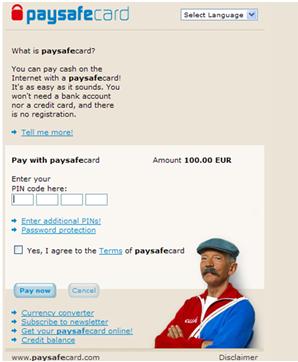 Saatavuus riippuu maastasi