Déposer avec Paysafecard
Paysafecard vous permet d'effectuer des dépôts sur votre compte EUcasino à tout moment. Il est sécurisé, facile et anonyme. Les cartes PaysafeCards sont disponibles dans de nombreux lieux tels que les stations-service, les kiosques, les bureaux de poste, les librairies, les banques et beaucoup d'autres encore !
It is quick, easy and safe. You don\'t need a credit card or a bank account. By choosing Paysafecard you\'ll be getting the safest, simplest solution going: that\'s because Paysafecard is a prepaid card that lets you pay on the internet. Paysafecards can be purchased at values of 10, 25, 50, and 100 EUR.
Si le total des versements que vous souhaitez faire dépasse le montant de votre carte, vous pouvez facilement payer la différence à l'aide d'une autre carte paysafecard. Ainsi vous pouvez combiner jusqu'à dix cartes paysafecards ce qui vous permet d'utiliser le credit de votre paysafecard jusqu'au bout.
Paysafecard is every bit as simple as cash. You don\'t need a bank account or a credit card. That\'s because Paysafecard is a prepaid voucher that you can buy from local shops and use to pay for online transactions on the internet.
It\'s as easy as 1-2-3!
To find out more about Paysafecard please visit //www.paysafecard.com/pos. The site has multiple languages to choose from.
Pour effectuer un dépôt via votre carte paysafecard vous devez sélectionner « paiement par paysafecard » parmi les options, entrer le montant que vous souhaitez en Euros ainsi que votre code bonus si vous en avez un.
You will then be redirected to Paysafecard\'s website where you need to enter the individual PIN from your Paysafecard. This is very simple–see the screenshot below: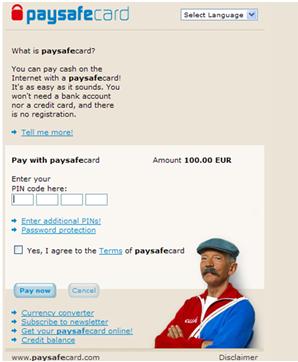 La disponibilité dépend de votre pays